Julie Cantrell is a multiple-award winning, New York Times and USA Today bestselling author who loves to write stories about second chances. Her latest contemporary novel, Perennials, is set in the quaint southern town of Oxford, Mississippi. Julie was recently in the January 2022 issue of Welcome Home and graciously answered a few questions!
1. Why did you become a writer?
I credit my mother. As a young girl, my mom not only read to me and taught me to read, she also gave me my first journal. For as far back as I can remember, I would climb into my backyard cedar tree in rural Louisiana and write. I'm grateful I've always been able to turn to writing as a positive place to pour life's pain and to celebrate the many wonders of the world.
I also credit my grandmother, who was the first to tell me I should be a writer, and my ninth-grade literature teacher, Linda Purcell, who led me to write fiction (thereby sparking a passion in me that never died). The difference one good mentor can make!
2. What inspired your current book?
My latest novel, Perennials, was inspired by a beautiful stargazer lily that bloomed in perfect time to remind me that life comes back… and love does, too. That one flower led me to write an entire story about the seasons of life, the intricacies of family relationships, and the importance of our roots. Proof that stories can be birthed anywhere.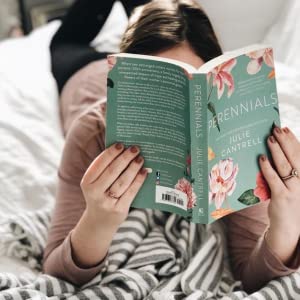 3. What is next for you?
I'm currently ghostwriting two nonfiction books; teaching writing classes through Story Summit, Women of our Words, and the Drexel University low-res MFA program; coaching a few writers as they move their books toward publishing; providing developmental edits and line edits for private clients and publishing teams; and writing proposals for several literary agencies. That keeps me BUSY, but I'm also co-writing a screenplay with a wonderful author friend, writing a memoir (yikes!), and tinkering with a new novel. I've never been one to juggle just one ball at a time, and I love learning new things. I'm also a teacher at heart, so it's fun to help shepherd other people's stories to shelves.