Treat yourself with these delicious Strawberries and Cream Scones. They are tender and buttery, with a bright pop of strawberry in every bite. The icing complements the scones with the perfect amount of sweetness. These would make a great addition to any brunch, or are perfect with a cup of tea.
Start by whisking the dry ingredients together in a medium-sized bowl.
Add in the cold, cubed butter.
Use a pastry blender to cut the butter into the dry ingredients, until the whole mixture looks like very small crumbs.
Whisk your wet ingredients together (cute mini whisk optional).
Pour the wet ingredients into the dry all at once.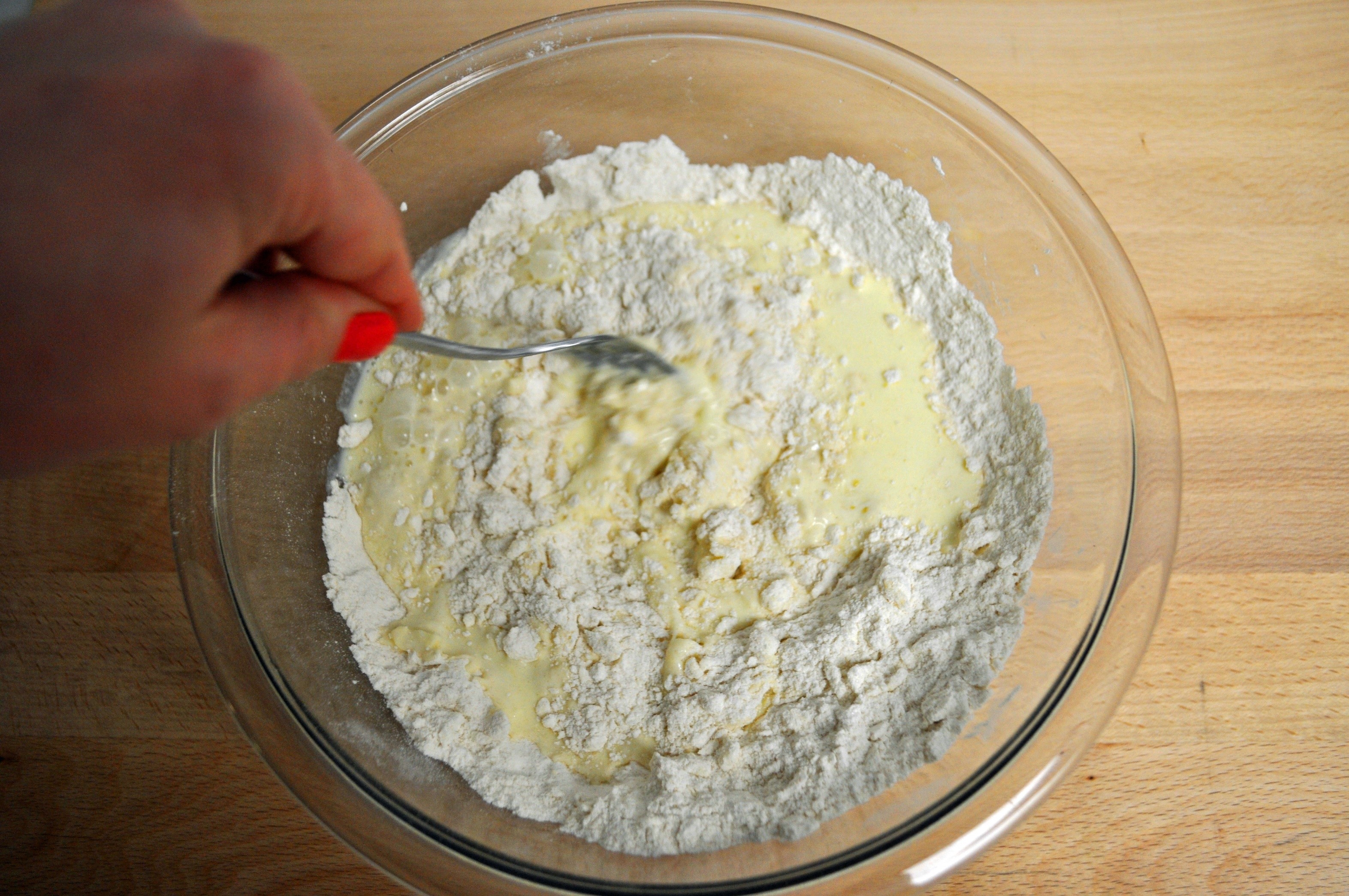 Using a fork, mix the dough together just the wet absorbs the dry ingredients.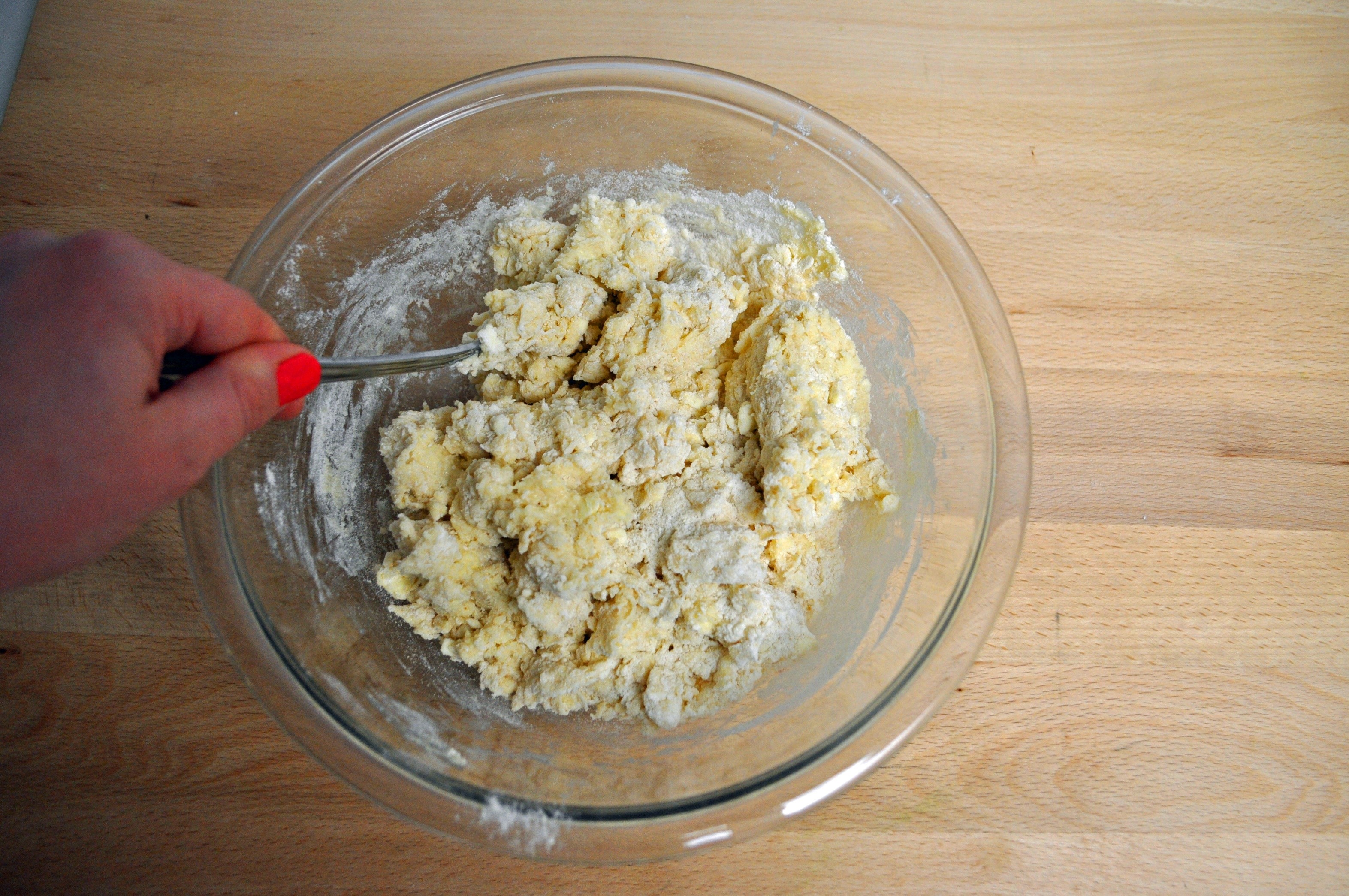 Stop mixing the dough when it is just starting to come together. It's now ready for strawberries. Raspberries and blueberries substitute very well in this dough as well.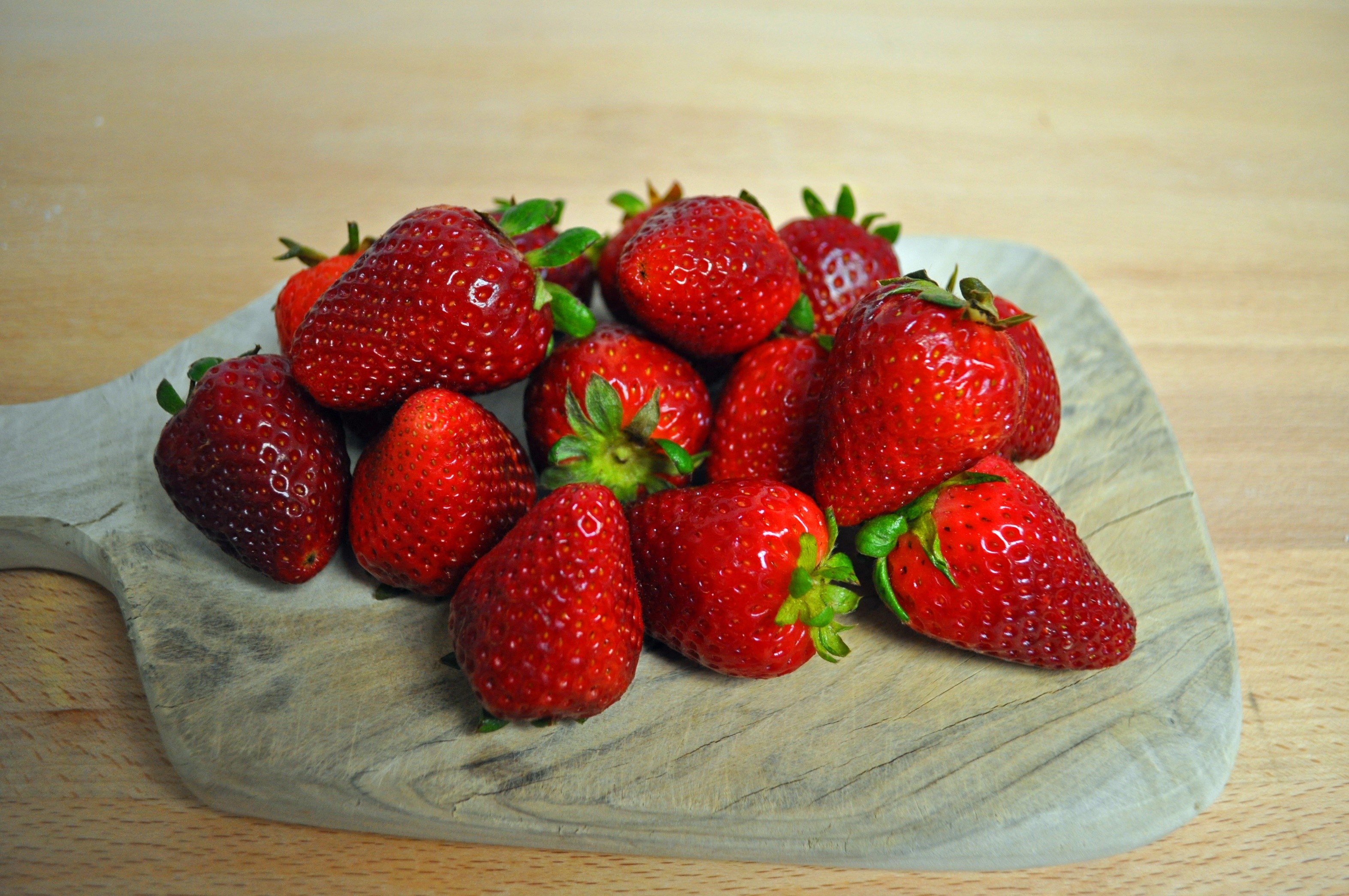 Is there anything more beautiful than a perfectly red, plump strawberry? I love when they're in season!
Hull and quarter the strawberries (or cut into 1/8ths if your strawberries are big). Medium-sized chunks of strawberries work best in this scone recipe. At this size, they are small enough to be in every bite, but big enough that they are prominent and don't get lost in the dough once it bakes up.
Gently fold the berries in with a spatula. Be careful not to overmix the dough because it will result in a tough scone. You just want to evenly distribute the berries in this step.
Turn the dough out onto a floured surface and shape into a mound.
Use your hands to press the dough into an 8" circle.
Cut the dough into 8 even wedges. A pizza wheel is a handy tool to easily slice through the dough and berries.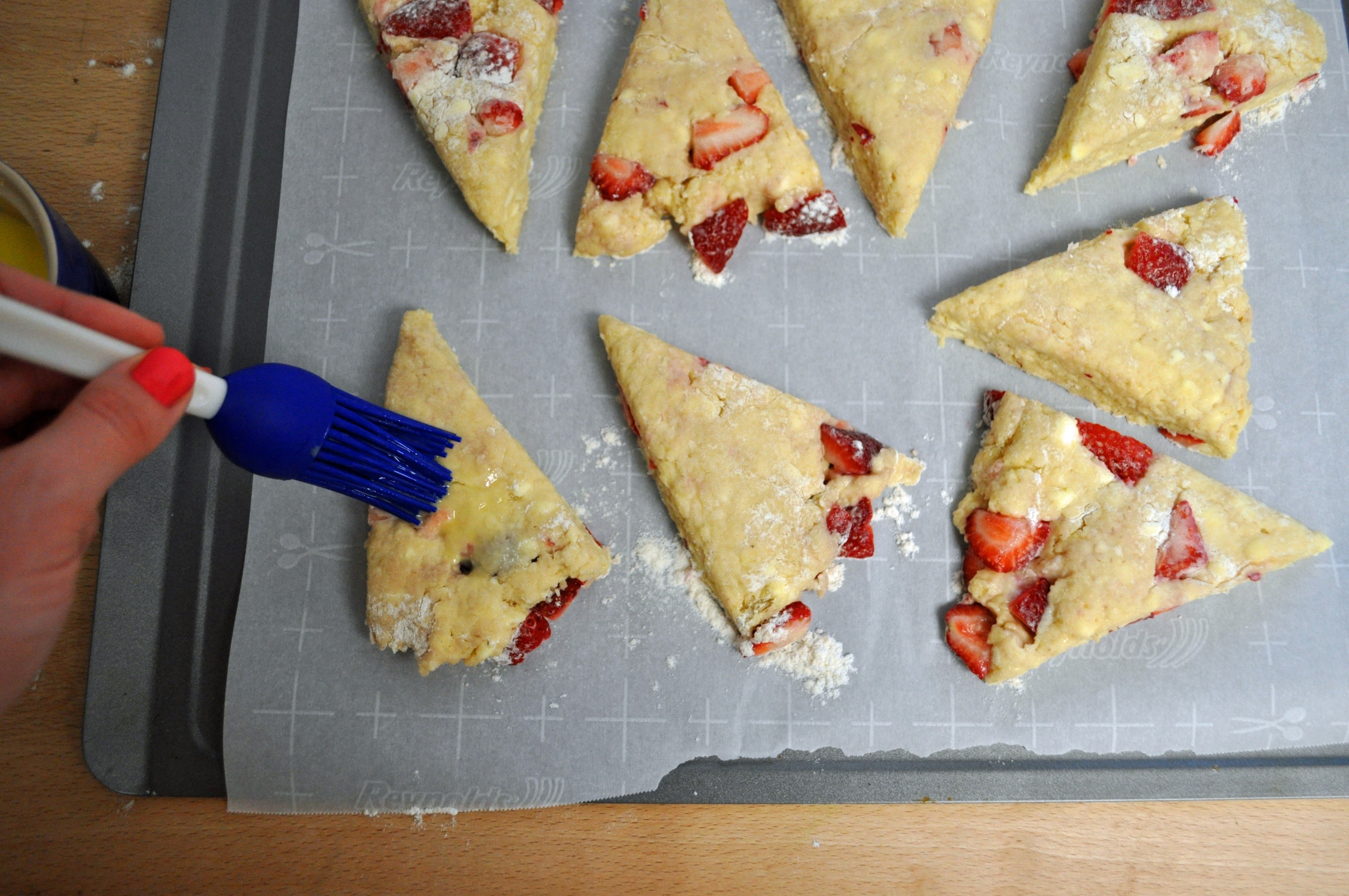 Transfer scones to a parchment-lined cookie sheet, keeping space between the scones. Brush the tops with egg wash (makes for a shinier and more golden brown baked product) and put into a preheated 400°F oven. Bake for 18-20 minutes.
ICING:
(½ cup powdered sugar 5 tsp heavy cream ½ tsp vanilla extract)
While your scones are baking, whisk together the icing ingredients in a small bowl.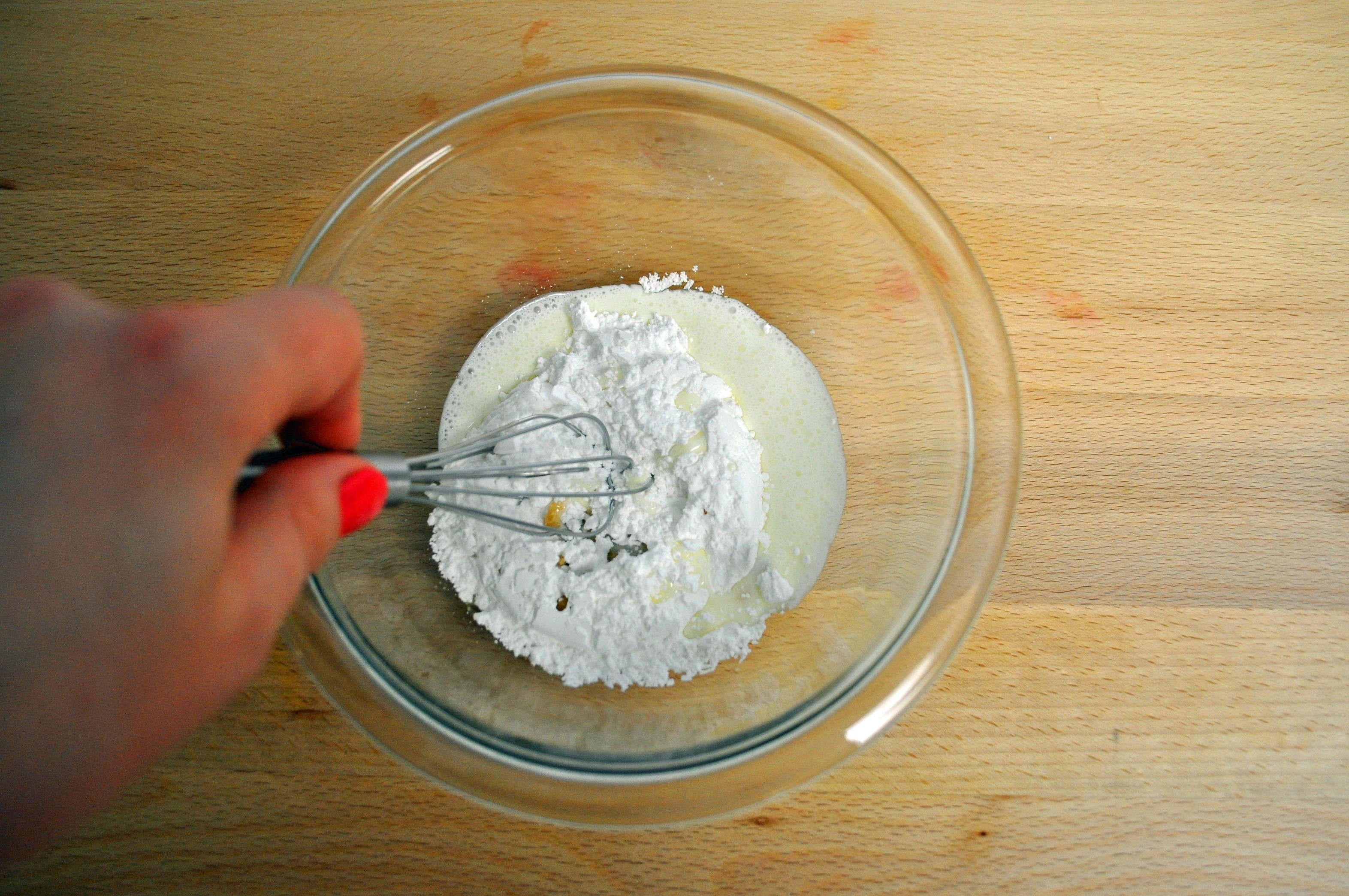 It should look something like this. If you want it a little thinner, add more liquid – a VERY small amount at a time. Add more powdered sugar if you want to thicken it up.
Take the scones out when they're golden brown. Cool on the cookie sheet for 10 minutes before you ice them. If you pour the icing on too soon, it will fall off or melt into the warm scone.
Drizzle the icing onto the scones with a spoon. Or, for more even stripes, fill a small resealable plastic bag with the icing. Cut a very small hole in one bottom corner of the bag, and squeeze icing on the scones.
It's hard not to eat the whole pan!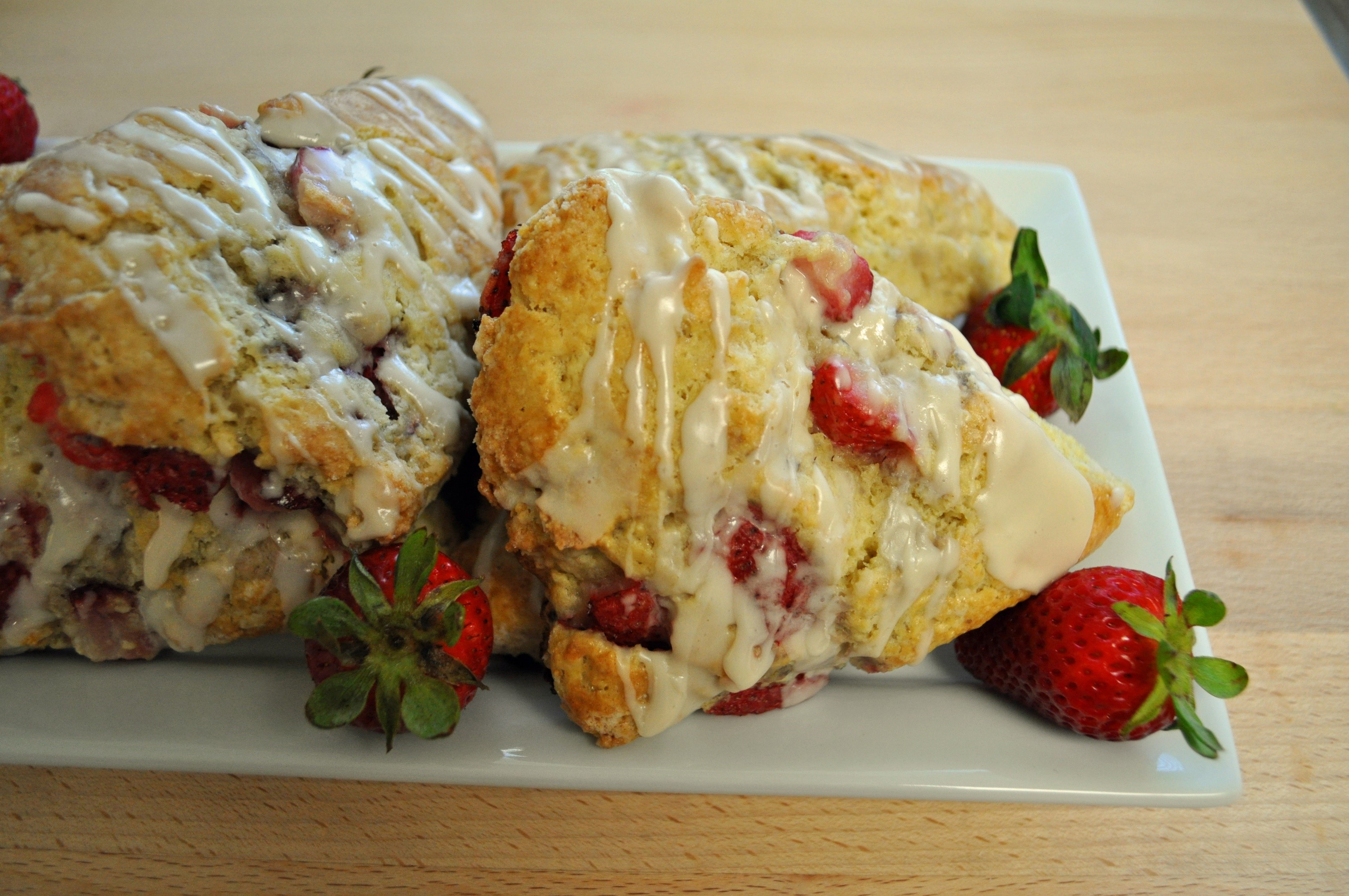 Enjoy!
Strawberries & Cream Scones
Makes 8 scones
Ingredients:
2 ½ cups flour
1/3 cup sugar
2 tsp baking powder
½ tsp baking soda
½ tsp salt
½ cup unsalted butter, very cold and cut into cubes
1 egg
½ cup whole milk
2 Tbsp heavy cream
1 ½ cups fresh strawberries, hulled and quartered (or cut into 1/8ths if they're very big)
Egg Wash: 1 egg, lightly beaten with 1 tsp water
Icing: ½ cup powdered sugar 5 tsp heavy cream ½ tsp vanilla extract
Preheat oven to 400°F. Line a cookie sheet with parchment paper; set aside.
In a medium-sized bowl, whisk together the flour, sugar, baking powder, baking soda, and salt. Cut in the cold, cubed butter with a pastry blender until the mixture turns into very small crumbs.
Whisk together the egg, milk and cream in a separate bowl; add all at once to the dry ingredients. Use a fork to combine, just until moistened. Gently fold in the strawberries.
Turn the dough out onto a floured surface and press into an 8" circle. Cut into 8 even wedges and place on the prepared cookie sheet. Brush the tops with egg wash.
Bake at 400°F for 18-20, until golden brown. Cool on sheet for 10 minutes.
For the glaze: whisk together the powdered sugar, heavy cream and vanilla extract. Drizzle over scones and serve.