First, I just want to say I hope you all had a very Merry Christmas! Secondly, I'm happy to have a guest blog by Balsam Hill. They will be sharing smart storage ideas for your Christmas decorations!
Putting up Christmas decorations can be fun but storing them later on is often challenging. Whether you pack away days or weeks after Christmas, these storage ideas from our friends at Balsam Hill will help you better preserve the beautiful look of your holiday décor.
1.Organize by type and usage.
Group similar tree decorations as you take them down, so they're easier to put away in boxes. Start with ornaments, then move on to picks and ribbons, then foliage. You can organize further by segregating according to style, size, or color. Place screws and small accessories in resealable bags to prevent losing them.
2. Pack using protective containers.

*Photo by blogger Nest of Posies
Store decorations in their original packaging if you still have it. Otherwise, here are some alternative containers to consider.
For tree ornaments
Pack ornaments individually in egg cartons or plastic cups. Line the container with tissue paper or paper towels before placing the ornaments inside. Use bubble wrap, shredded paper, or packing peanuts to protect fragile items. To store bead strings, use empty tennis ball cans or water bottles.
Place items in clear, stackable plastic bins so you can tell what's inside. This will save you time when you're looking for something from the stacks of boxes.
For lights
Wrap Christmas light strands around a flat piece of cardboard or a storage reel to keep them from getting tangled. Place them in individual plastic boxes and label according to light color or type.
For foliage
Take extra care when storing foliage to prevent it from getting damaged or deformed. To store a wreath, tie its body to a clothes hanger with floral wire, then wrap it in a plastic dry-cleaning bag. Hang wreaths on a rack with ample space between to prevent crushing.
Place garlands in a clear plastic tub. Arrange each one so it coils neatly inside, taking care not to dislodge any attached ornaments.
For artificial Christmas trees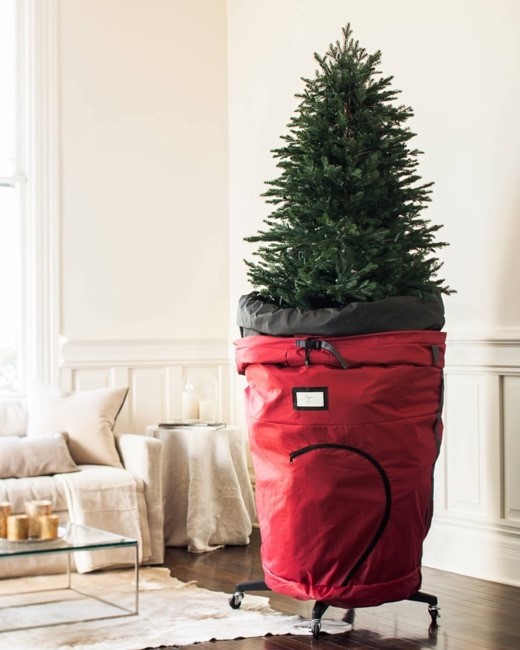 Although a Christmas tree can be stored in its original box, cardboard packaging tends to deteriorate over time. Invest in a storage bag especially made for trees and choose one with sturdy handles and wheels for more convenience. There are even bags that allow you to store a fully assembled tree, which spares you from having to set up and fluff all over again.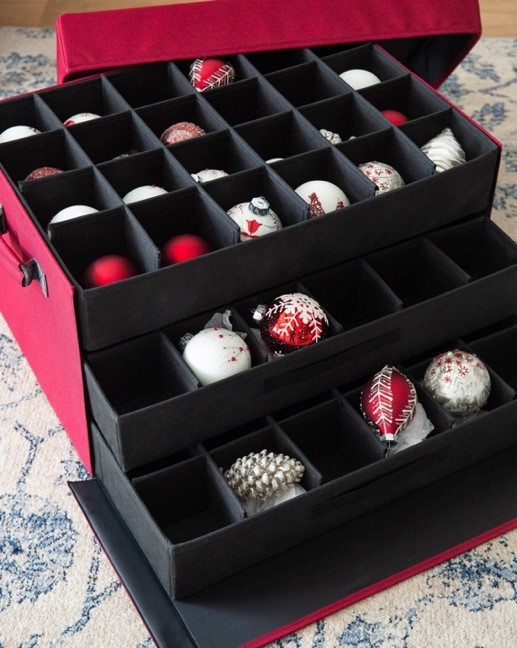 Professional storage containers are made with durable material to protect against dust, dirt, and insects. Premium bags for artificial Christmas trees, wreaths, and garlands are also available. For extra special or delicate items, get ornament boxes with dividers to prevent scratching and chipping.
3. Store in a cool and dry place.

*Photo by blogger Nest of Posies
Place your containers in an area that's always cool and dry. It's best to avoid rooms or closets that have extreme changes in humidity or temperature.
Extra Tip: While packing, label each container according to its contents and usage for easy identification. Create a system for arranging the containers, whether by décor type or area where they are used. For instance, keep all tree decorations beside each other. When stacking boxes, place the heavier ones at the bottom and the lighter ones on top.
Try out these simple tips and keep your cherished decorations in great shape for many Christmases to come. Find more holiday décor at Balsam Hill and decorating tips at the blog.