Pam Farrel is an international speaker, relationship expert, and author of over 50 books including best-selling Men Are Like Waffles, Women Are Like Spaghetti. Together with her husband, Bill, they Co-Direct Love-Wise, giving encouragement, education and enrichment to build people's most vital relationships. Pam was recently in the May issue of Welcome Home and has generously answered a few questions!
1. Why did you become a writer?
My mother signed me up for a "Golden Books" club as a preschooler and I remember the delight of the surprise of a new book in the mail box. I soon read nearly everything in the children's section of our tiny town's library.I wrote and hand illustrated my first book in second grade, and of course it was titled, "Princess Pamela"! But it was really in college, as I wrote for the newspaper, that I found my love of telling inspiring stories– that hooked me. You might say, I am addicted to seeing lives transformed by the hope of inspiring, life-changing words."
2. What inspired your current book?
My featured book is Men Are Like Waffles, Women Are Like Spaghetti. We recently released this expanded anniversary edition. This book was birthed when my husband, then a Pastor, was also the President of the Youth Basketball League, and a dad came up to him in the gym asking for help for his marriage. Bill invited the couple to come to his office for some relationship coaching. When the couple sat down, Bill said, "How can I help you?" The husband turned to his wife, and she began talking, jumping from subject to subject to subject. The husband looked to Bill in a panic, "She does this all the time." Bill smiled and said, "Think of the way God wired her mind like a bowl of spaghetti. If you follow one noodle around that plate, it touches every other noodle. Women connect everything to everything else in their lives. Women have more connections between the two hemispheres of their brain. Social scientists sometimes call way of processing life multi-tasking or toggle tasking." Bill then taught the husband some practical listening skills. The wife talked for 55 minutes! Eventually, she relaxed back in her chair and said, "That was great!" (Probably because she felt heard and valued) Then she asked, "If my mind works like spaghetti, what does my husband's brain look like?"
Bill said, "That will be next week". Bill knew the research says, women integrate and men compartmentalize so Bill began to pray about what food had compartments. One morning our sons were making toaster waffles and Bill thought, "Waffles! Compartments!" So the next week he explained that men's minds work like a waffle, boxes separated by walls so one issue goes in each box. So they think of one thing at a time." That day they stayed on one issue, solved it, and their married was rescued.
They next week we shared that word picture at a marriage conference and the weekend program director of the largest radio station was in the audience with his newlywed wife, it helped their marriage, we were invited to have our own radio program, now that fun and practical concept has turned into a book that has sold over 300,000 in English and has been translated into more than 15 languages.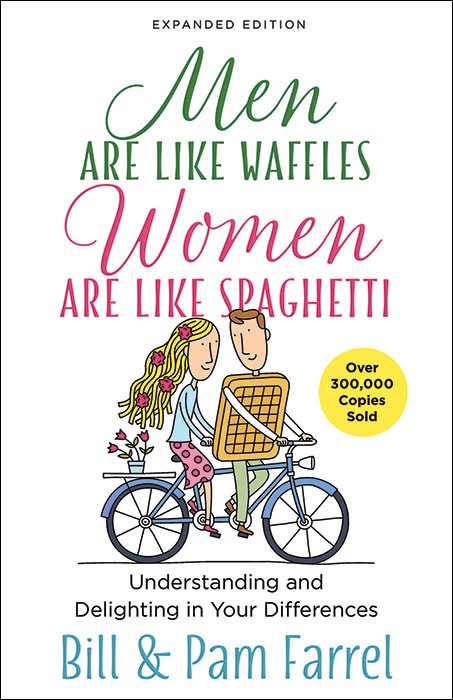 3. What is next for you?
I write for both couples and for women. For couples, Bill and I will soon release "Marriage Meet Ups: A Planner for Couples Who Want a Productive, Passionate and Purposeful Life" (Love-Wise Publishing) It is a His and Her set to help couples get on the same page and pull together in the same direction. Bill and I have had a marriage meeting each Monday for most of our 40 year marriage. I think it might be one of the main reasons we are happy, together and still in love!
For women: I have teamed with Jean E Jones and artist Karla Dornacher to create a series of Bible Studies that mix a rich bible study with practical life application and beautiful art and coloring pages. We have released Discovering Hope in the Psalms, Discovering Joy in Philippians, and Discovering Jesus in the Old Testament.(All have been Amazon bestsellers) Currently, I am wrapping up my writing for the next in the series. My part of the team is to create inspirational devotions for Discovering Good News in John: A Creative Bible Study Experience. (all from Harvest House Publishers)