Jean Meltzer has the unique distinction of being the world's only Emmy-award winning, chronically-ill and disabled, rabbinical-school drop-out. Yet, it is this extraordinary background — coupled with a firm belief in holding onto your joy and seeking out happy endings — which forms the basis of her diverse work.

Today, Jean lives a thriving, chronically-fabulous, Jewish life in Virginia. She sees her challenges as part of a larger journey and is eager to share her stories with others. Her first book, The Matzah Ball, will be available on September 28th! Jean wrote the short story in the September 2021 issue of Welcome Home titled The Shabbat Secret, a prequel to her book, The Matzah Ball. She generously answered a few questions today on the blog!
1. Why did you become a writer?
I've always loved storytelling and words. I can still remember learning my ABCs in preschool, and I remember writing my first story around kindergarten. However, I probably didn't start thinking about storytelling as a career until the sixth grade. During that time, my English teacher saw something special in my writing and began having me read my short stories and humorous limericks in class. Seeing the reaction of my classmates—the way my schoolmates would laugh and holler at my tales, or cackle with excitement when I had a new piece of writing—essentially set my path. I knew I was going to spend the rest of my life telling stories.
2. What inspired your current book?
Simply put, I'm a nice Jewish girl who has always had a not-so-secret affinity for Christmas! Because of my fascination with Christmas, I would spend every holiday season immersed in Christmas books, movies, and décor. And yet, I had never really gotten to see my own story reflected on the shelf.
I decided to challenge myself to write a Hanukkah romance. I wanted to see if I could write a story that would have all the holiday twists, tropes, and magic that I love, but still feel authentic to the contemporary Jewish experience. One of the ways I did that was to take bits and pieces of my real life, and the real world Jewish community. For example, most folks may not realize that Matzo Balls are real events. Typically held on Christmas Eve, Matzo Balls were large-scale parties hosted in major cities and began as a way for Jewish singles to meet up during a night when most of their non-Jewish friends were off celebrating.
In addition, Rachel—the heroine in The Matzah Ball—is the daughter of a Rabbi. I spent five years in Rabbinical School studying to become a Rabbi. Rachel is also a character who is homebound by chronic illness. I share the same diagnosis of Rachel, having been sick with myalgic encephalomyelitis/chronic fatigue syndrome (ME/CFS) since 1998.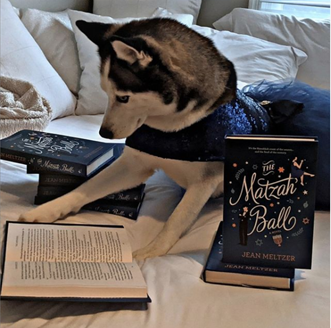 3. What is next for you?
I'm currently wrapping my second book, Mr. Perfect on Paper. It's about a third-generation shadchanit, or matchmaker, named Dara Rabinowitz. Dara finds her private search for love thrust into the national spotlight when her bubbe, or grandmother, outs her list for "the Perfect Jewish husband" on national television. As a nationwide hunt ensues, Dara comes to realize that finding "Mr. Perfect on Paper" may mean giving up on Christopher Steadfast, the charming—and totally not Jewish—reporter following her story.
On the surface, it's an interfaith romance. In reality, and to quote a Yiddishism here, it's about how, "Man plans, and God laughs." It will be published in Fall 2022.
Ultimately though, I hope to keep writing books that tackle provocative topics in heartfelt and humorous ways. I suppose that in many ways, I'm still that little girl in sixth grade, reading my stories aloud to a classroom, cackling with laughter. I want people to walk away from my books feeling uplifted and hopeful.