Elizabeth Van Lierde is a 25 year old lover of all things creative, stylized and wholesome as well as an event planner, food lover and hostess to the people close to her heart. A recent graduate with a degree in communication studies and a concentration in hospitality. She created a blog a few years ago during her junior year of college in Colorado. While being a student was fulfilling, blogging fed her creativity.
The college housewife blog started out as an Instagram handle pun and rapidly grew into the art of all things domestic. A few years later she couldn't be more interested in the world of entertaining, cooking and making a house a home with a modern and fresh take.
Elizabeth was recently featured in the July 2021 issue of Welcome Home and generously answered a few questions!
1. Why did you decide to start writing a cookbook?
Writing a cookbook has always been a dream of mine! I loved the idea of creating a one stop shop source where people could plan their entire menu from start to finish for any occasion! I had a very distinct vision for the book, everything from the vibrant colorful photography, fresh flavorful recipes and a light hearted tone that people could relate to and feel inspired by.
2. What inspired your current cookbook?
Certain celebrations and scenarios really inspired me. I could picture my friends cooking their first Thanksgiving turkey and I wanted them to be well equipped and know everything there was from prepping the turkey to how long it needed to cook for. I wanted to coach along with my best friend as she attempted to make her future husband their first date night meal at home. For me it was the stories and memories associated with these milestone meals in life.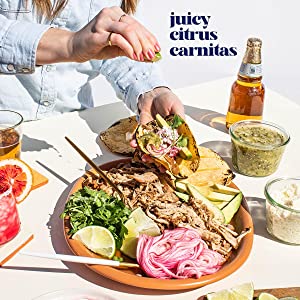 3. What is next for you?
I dream of having a table décor line at Target one day or owning my own kitchen studio!

EVERYDAY ENTERTAINING COOKBOOK AVAILABLE NOW!