4 Easy Steps to Create an Easter Tablescape

Easter is a wonderful time to celebrate with family and friends. Set the tone for a beautiful gathering with an elegant, easy-to-make centerpiece accented by the perfect place settings.
Step 1: Create A Stunning Centerpiece
For a spring-inspired look, start with a rustic, yet whimsical design for the center of your table. Using a two-piece terrarium, place succulents at the corners with pastel eggs opposite them. You can choose wooden, dyed or ceramic eggs, the ones featured here have a hint of pink tulle for a detail that's just so darling! Then, fill in the arrangement with baby's breath and nestle a bunny in the center for a fun finishing touch—you can even include jelly beans for a sweet treat at the end of your meal. Now, simply place the top back on the terrarium and you have a natural, beautiful focal point.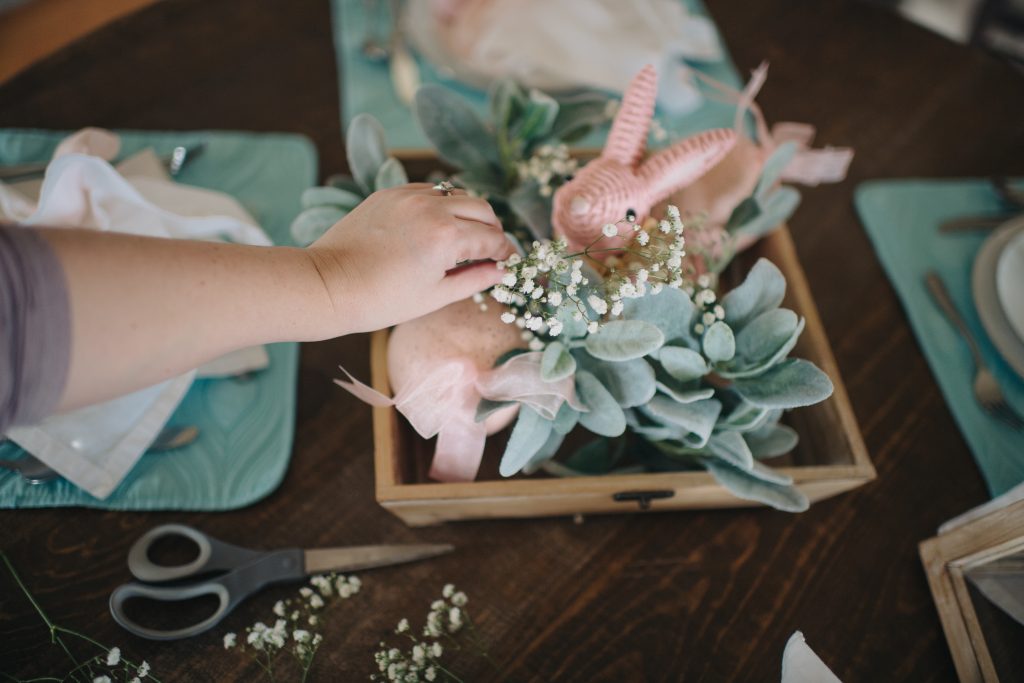 Step 2: Decorate Special Easter Eggs

Just as I choose a word for each new year, you can set an intention for your guests to commemorate this special day. Before the big day, paint wooden eggs in pastel hues that coordinate with your palette. Once they are dry, choose stencils with an empowering message or write out your own blessings on each one, like believe, love, hope, dream—choose whatever words speak to you or what you want to say to everyone sitting at the table with you. You can even ask each person to read their egg and say what their word means to them.
Step 3: Folding in Some Fun
It's the little things that make a big impact when celebrating a holiday. Easter is special to our family, so as everyone gathers around the table together, this napkin arrangement with a blush of color casts a cheerful tone. To get this look, use a thin swatch of fabric, try basic cotton featured here or burlap for a more rustic approach or even a knit piece for a cozy theme. Pinch the white napkin in the center, drawing up into point. Then wrap the colorful cloth around the center, tie it into a knot and tuck in the ends for a pretty bow effect.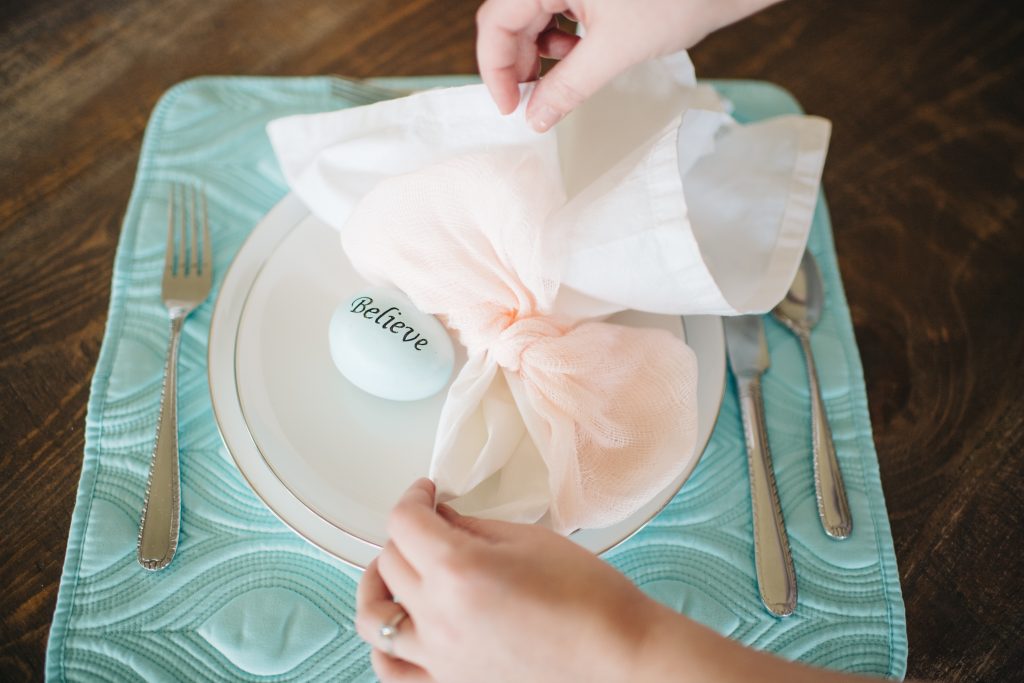 Step 4: Put It All Together

Finish your charming tablescape by adding a pop of color, like this trendy turquoise hue. A placemat anchors each person's place setting while bringing a bright note to the whole look of your table. Lay the placemat and dishes down first, then carefully arrange the silverware per proper etiquette and finally centering the decorative egg and napkin on the plates.
Make sure to fan and fluff the napkin for a full, inviting effect—it's the perfect way to welcome everyone in from an Easter egg hunt, just like the Macomber family hosts! After baskets have been filled with eggs and treats outside, we settle in around the table and enjoy a delicious ham with Alder potato salad (the recipe is in my new cookbook, Debbie Macomber's Table.)
Now you are ready to celebrate Easter and the risen Christ with relatives gathered at your beautiful table. It's these moments that remind me how grateful I am for my family and for the time we get to spend together.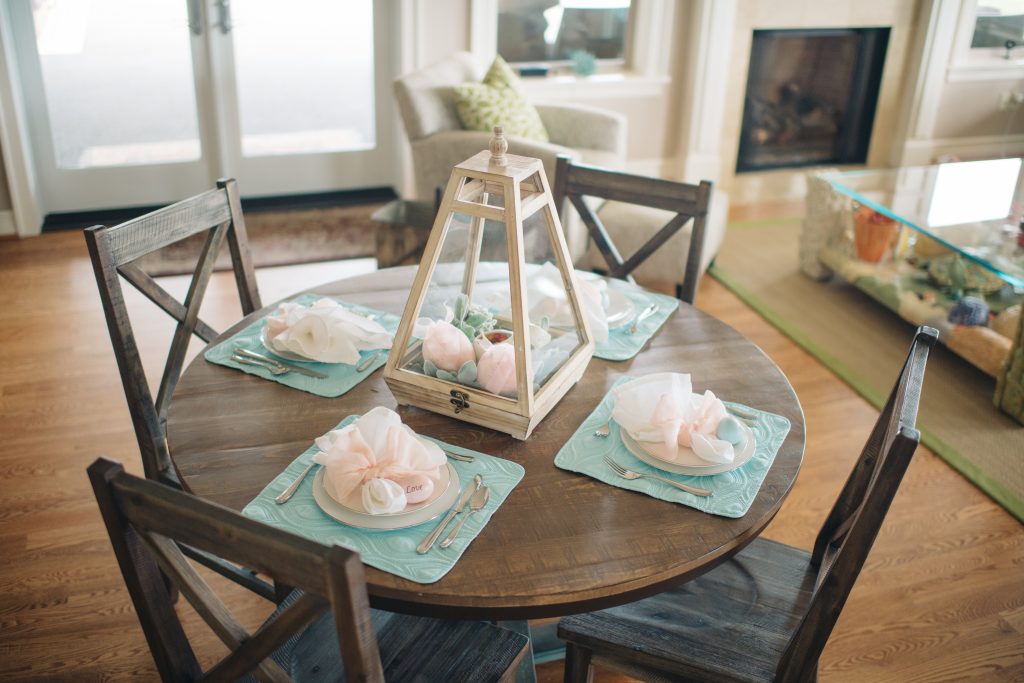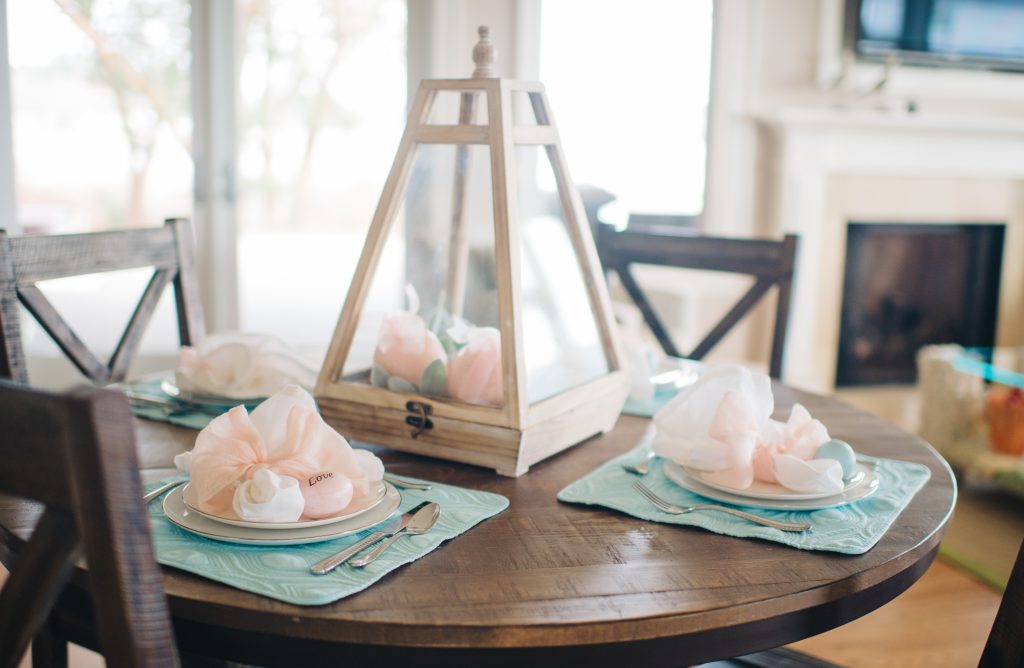 To make this look yourself visit the links below: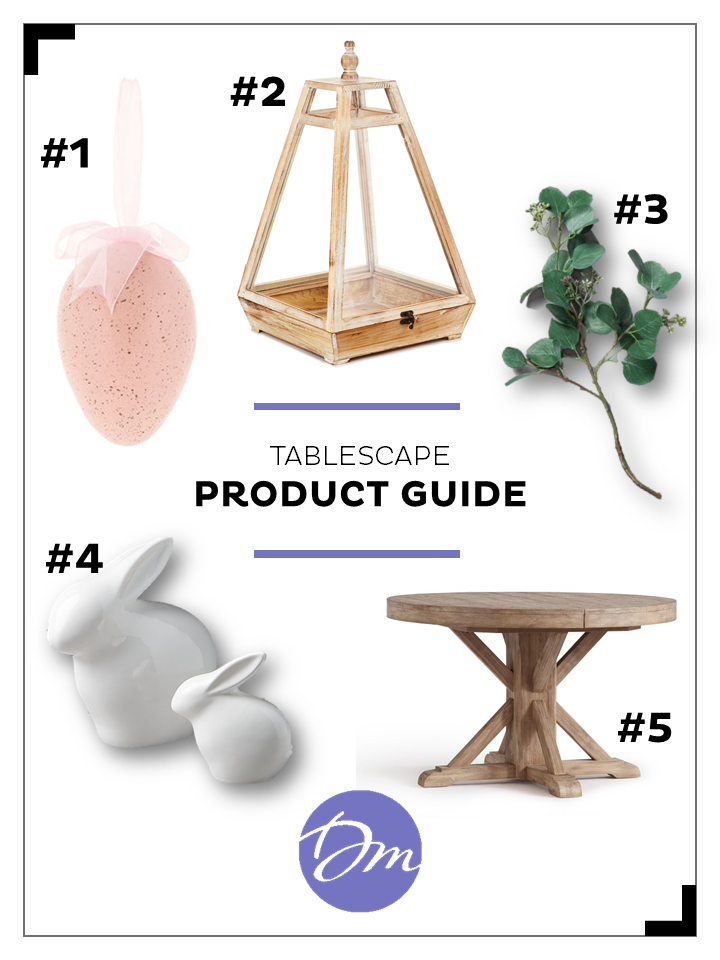 #1 Large Foam Eggs
#2 Terrarium
#3 Fake Greenery
#4 White Ceramic Bunny
#5 Pedestal Table